As pet owners – and especially new owners of a German Shorthaired Pointer (GSP) – we want the best for our pets to ensure they live long and happy lives.
We know that their diets are essential to their good health, but the lines are somewhat blurry on the quantity. So, how much should you feed a GSP from their fumbling puppy stage to their golden years?
The feeding requirements of a German Shorthaired Pointer will depend on factors such as life stage, nutrition needs, and product quality. As GSPs grow, feeding schedules and amounts are adjusted until they mature; and will change again once they reach their senior years. 
Feeding your dogs involves a lot more than just filling a bowl with food and calling it a day. When it comes to caring for a GSP, there are a few things you need to keep in mind. 
Aspects That Influence How Much To Feed A GSP
Even though the heritage of the GSP dates back to the 1600s, and the pet food industry only took off in the 1800s, it is only in recent years (somewhere in the mid-1900s) that in-depth research into the dietary needs of domesticated pets has become popular. 
The problem with setting up a general feeding standard for a GSP (at any given point of its life) is that many factors influence the amount of food you have to provide for them. 
To understand why so many variables are involved, we need to appreciate the elements that shape the canine – particularly the GSP's – nutritional needs. 
Quality And Guidelines Influences A GSP's Diet 
Before we dive into the physical aspects of the GSP's dietary requirements, we have to explore the two fundamental issues that have considerable influence on how much to feed a GSP: food quality and manufacturer's guidelines. 
Some dog owners are under the mistaken impression that all dog food is alike. However, premium pet food is more expensive for a reason.
Reputable manufacturers use quality ingredients to ensure the best possible nutrition for your dog. Some of the cheaper brands might be using fillers (like corn, soy, or grains). If the quality is inferior, they'll likely need to eat more food.
Manufacturer's Guidelines
Most reputable food manufactures will have guidelines on how to feed your GSP according to their weight.
You'll notice that these recommendations might differ from brand to brand, and the reason is that they don't use the same ingredients in the production process.
Fresh food. Fresh start. Ollie Dog Food Delivery
You're GSP will experience better digestion
Bone strength + healthier pups
Check it out below.
The German Shorthaired Pointer Life Stages 
Your GSP's three main life stages have a different effect on how their metabolisms work; each phase will require adjusting their diet to ensure they remain at the optimal weight range. 
GSP Puppies To Adolescents
Puppies need to eat small regular meals during the day to accommodate healthy development. Additionally, a puppy's stomach won't hold much food, so it is best to break up their mealtimes in the following way: 
| | | |
| --- | --- | --- |
| Age | Frequency  | Example  |
| 0 – 3 months | Four feedings a day | seven am, eleven am, three pm, seven pm |
| 4 – 6 months  | Three feedings a day | six am, twelve pm, and six pm. |
| 6 months + | Two feedings a day | breakfast and dinner |
GSP Adolescents To Adults
Even though your GSP still acts like a puppy at eighteen months, at this point, they have fully grown into adolescents and are well on their way to becoming adults (around two years of age). 
Your adult GSP will likely still be very active and should have no problem with an hour's vigorous exercise. In the adult stage, they'll have a healthy appetite to counter all the physical activities and maintain their weight. 
GSPs will reach their golden years at around eight to ten years old. Most dogs usually start to slow down a little at this point, tiring quickly, and need more resting time. 
When they go on retirement, their consumption would have to be adjusted to prevent weight gain. A little extra won't hurt too much; however, older dogs that are overweight can present a lot of health issues and physical limitations. 
The German Shorthaired Pointer Nutritional Needs
Apart from the life stages, a GSP's nutritional needs are also affected by their physical attributes and capabilities. 
GSPs are very energetic, and they might require specific nutrition or need to eat more to keep them functioning at optimum levels. 
A healthy weight for your male GSP is between 55 and 70 pounds; females are between 45 and 60 pounds. If your dog looks a little chubby, you'll have to cut down on its food consumption. 
However, don't cut back on how much food you provide, but start cutting back on treats and make time for an hour of exercise every day. 
Remember that when your GSP is spayed or neutered, chances of weight gain increase; if you see that starting to happen, you'll have to lower their calorie intake. 
GSPs are overall healthy dogs, except for progressive retinal atrophy and hip dysplasia (a common health condition found in most medium to large canines).
There are pet food manufacturers that develop food to lessen the symptoms of specific health issues. 
These prescription diets (like most other brands) have guidelines at the back to make sure your GSP consumes the right amount of food that is best suited for their weight or condition. 
GSP Feeding Recommendations Based On Life Stages
The American Kennel Club classifies GSPs as medium-sized dogs, and a diet best suited for them should be set according to their size. 
To get an approximate outline of how much your GSP should eat in a day (assuming you are feeding them good quality dry food), here are the recommendations on how much to feed your GSP during all the stages of their lives:
Puppies
| | | |
| --- | --- | --- |
| Weight | Age  | Qty per day |
| 10 lbs | 2 to 3 months   | 1 3/4 cups |
| 20 lbs | 3 to 5 months  | 2 1/2 cups |
| 40 lbs | 5 to 9 months | 3 cups |
| 50lbs | 9 to 12 months | 3 1/2 cups |
| 60 lbs | 12 to 16 months  | 4 cups |
| 70 lbs | 16 to 18 months  | 5 cups |
Adults
| | | |
| --- | --- | --- |
| Weight | Age  | Qty per day |
| 30 lbs | 18 months and up | 2 cups |
| 40 lbs | 18 months and up | 2 2/3 cups |
| 50 lbs | 18 months and up | 3 cups |
| 60 lbs | 18 months and up | 3 1/2 cups |
| 70 lbs | 18 months and up | 4 cups  |
Seniors 
| | | |
| --- | --- | --- |
| Weight | Age  | Qty per day |
| 30 lbs | 8 to 10 years and up   | 2 cups |
| 40 lbs | 8 to 10 years and up   | 2 1/3 cups |
| 50 lbs | 8 to 10 years and up   | 2 3/4 cups |
| 60 lbs | 8 to 10 years and up   | 3 1/4 cups |
| 70 lbs | 8 to 10 years and up   | 3 3/4 cups |
These recommendations are based on general requirements of superior quality dry food for medium-sized dogs. It is important to always consult your veterinarian before changing your GPs diet.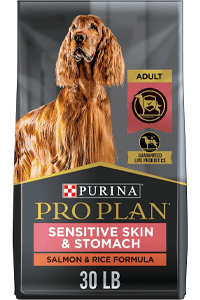 Purina Pro Plan Adult Sensitive Skin & Stomach Salmon & Rice Formula Dry Dog Food
Excellent for your GSP with a sensitive stomach.
Includes omega-6 fatty acids to help support a healthy skin and coat.
Check it out below.
Conclusion
The best way to make sure your German Shorthaired Pointer is eating the correct amount of food is to select a superior quality food and follow the manufacturer's feeding recommendations according to your GSP's weight. 
Remember to keep an eye on your GSP's body; if they are packing a little extra weight, you might be feeding them too much. In comparison, if their rubs are protruding, you should increase calories for a little while.